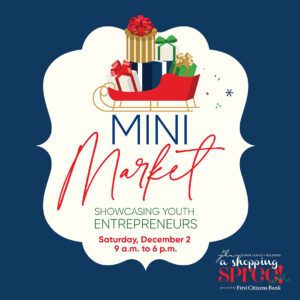 To further support the Junior League of Raleigh's vision to have a positive impact on the lives of youth in Wake County, we are empowering young entrepreneurs through SPREE! Mini Market.
Ten to twelve youth-owned businesses will be sponsored by Comerica Bank to showcase their products during Saturday's general shopping hours. Comerica Bank's generous sponsorship removes the financial barrier some youth-owned businesses may face ensuring equitable access to become a vendor at A Shopping SPREE! for all interested young entrepreneurs.
Businesses must be "cash and carry" and owned by a student in 4th-12th grade.
To apply, please fill out our application form.
To view the full Mini Market Merchant Fact Sheet, please click here.
Questions? Contact spreeminimarket@gmail.com.