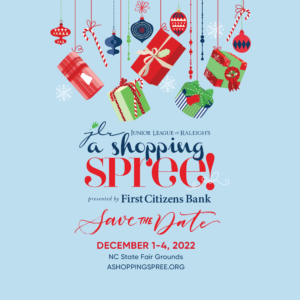 PRESS RELEASE
The Junior League of Raleigh Hosts 38th Annual
A Shopping SPREE! Presented by First Citizens Bank
December 1-4

This year's premier holiday shopping event will be hosted in the Jim Graham Building at the NC State Fairgrounds.  
The Junior League of Raleigh's (JLR) popular holiday tradition is back, offering a unique shopping experience while raising money for nonprofit programs in Wake County. A Shopping SPREE! will host dozens of regional and national exhibitors at the Jim Graham Building at the NC State Fairgrounds from December 1-4.
Throughout the four day event, shoppers can purchase the latest in fashion and home decor trends, specialty foods, unique gifts and holiday merchandise.
Safety is a Priority at SPREE!
The JLR is excited to welcome each of you back in person! While COVID-19 is still upon us, we will be taking additional measures to ensure the safety of all participants. Hand sanitizing stations will be located throughout the event. If you are not feeling well, please stay home. If you or someone you have direct contact with is not feeling well, please get tested before you visit SPREE!. We will monitor state and local guidelines regarding masks around the time of the event. Please check back for updated safety precautions to be taken as the event draws near.
Benefits of SPREE!
Proceeds from A Shopping SPREE! help support the Junior League of Raleigh's Center for Community Leadership and community projects throughout Wake County. Since 1930, the League has donated more than $5.5 million and more than 237,000 volunteer hours to programs and projects that impact youth in our community such as AventWest Children's Mentoring, BackPack Buddies, Brentwood Boys & Girls Club, Food Bank of Central and Eastern NC, Helping Horse, Heritage Park Community Learning Center, Interact, SAFEchild and StepUp Ministry.
Special Events Get SPREE! Shoppers in the Holiday Spirit
A Shopping SPREE! Silent Auction opens Friday, November 18
Last year, our silent auction was able to raise more than $25,000 to support the League's commitment to empower women and at-risk youth through educational and charitable initiatives. We would love to exceed last year's donations. The auction items will be on display online beginning November 18 and at A Shopping SPREE! beginning opening day. Text JLRSPREE22 to 76278 or visit https://JLRSPREE2022.givesmart.com to preview the items included in the silent auction.
Merry Morning Shopping: Thursday, December 1, 9 a.m. – 12 p.m.
Beat the crowds to SPREE! at this exclusive, stroller-free morning shopping event. This event will get you early access to purchase all the unique merchandise our vendors have to offer.
Night Out @ SPREE!: Friday, December 2, 6:30 p.m. – 9 p.m.
Make plans to join us for the return of our special evening event! We look forward to sharing more details about this exclusive, ticketed event soon.
Mini Market: Saturday, December 3, 9 a.m. – 6 p.m.
During Saturday's general shopping hours, check out the Mini Market and support youth-owned businesses! Sponsored by Comerica Bank.
General Admission Shopping:
Thursday, December 1, 12 p.m. – 7 p.m.
Friday, December 2, 9 a.m. – 5 p.m.
Saturday, December 3, 9 a.m. – 6 p.m.
Sunday, December 4, 10 a.m. – 4 p.m.
About the Junior League of Raleigh
The Junior League of Raleigh (JLR) is the local chapter of the Association of Junior Leagues International, an organization of women committed to promoting volunteerism, developing the potential of women and improving the community through effective action and leadership of trained volunteers. Its purpose is exclusively educational and charitable. The Junior League reaches out to women of all races, religions and national origins who demonstrate an interest in, and commitment to, volunteerism. Now in its 93rd year, nearly 1,500 members of the Junior League of Raleigh support community organizations around Wake County.
SPREE! Social Media
Facebook: www.facebook.com/AShoppingSpree
Instagram: www.instagram.com/ashoppingspree