The Junior League of Raleigh
39th Annual A Shopping SPREE!
Presented by First Citizens Bank
Thursday, November 30 through Sunday, December 3, 2023
This year's premier holiday shopping event will be hosted at the Jim Graham Building at the NC State Fairgrounds.
The Junior League of Raleigh's (JLR) popular holiday tradition is back, offering a unique shopping experience while raising money for nonprofit programs and community service initiatives in Wake County.  A Shopping SPREE! will host dozens of regional and national exhibitors at the Jim Graham Building at the NC State Fairgrounds Nov. 30-Dec. 3.
Throughout the four-day event, shoppers can purchase the latest in fashion and home decor trends, specialty foods, unique gifts, and holiday merchandise.
Benefits of SPREE!
Proceeds from A Shopping SPREE! help support the Junior League of Raleigh's Center for Community Leadership and community projects throughout Wake County. Since 1930, the League has donated more than $6 million to programs and projects that impact our community. Our members give 30,000 hours annually to League focus areas: School Success; Healthy Kids, Healthy Community; Strong Family Foundations; and Quick Impact (which provides assistance to dozens of other nonprofits).
Special Events
A Shopping SPREE! Silent Auction
A key component of SPREE! is a Silent Auction featuring unique items and services from the Triangle's best retailers, restaurants, entertainment venues, and professionals. Held entirely online, the auction will open Friday, November 17 and close Saturday, December 2.  Prizes will be on display at A Shopping SPREE! Thursday through Saturday. Donors to the auction will be recognized on SPREE! social media channels, signage in the auction area, logo and website placement, and listing in the SPREE! program.  Donations are fully tax deductible. Last year, our silent auction was able to raise around $32,000 to support the League's mission. We would love to exceed last year's donations.
Merry Morning Shopping: Thursday, November 30, 9 a.m. – Noon
Beat the crowds to SPREE! at this exclusive, stroller-free morning shopping event. There are two ticket levels available:
the general admission Merry Morning ticket with early access to purchase all the unique merchandise our vendors have to offer
the VIP Merry Morning ticket provides early access AND a catered breakfast with a celebratory mimosa!
Happy Hour Shopping: Friday, December 1, 5 p.m. to 7 p.m.
End your workweek and start your weekend with happy hour shopping at A Shopping SPREE!  No ticket is required; open to the public. Drink tickets for purchase; ID required.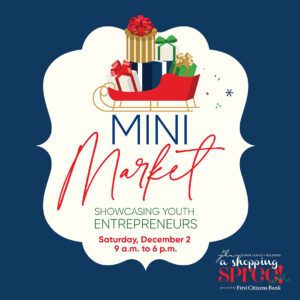 Mini Market: Saturday, December 2, 9 a.m. – 6 p.m.
During Saturday's general shopping hours, check out the Mini Market and support youth-owned businesses.  The Junior League of Raleigh began the Mini Market at last year's SPREE!, where it was very warmly received.  This year, we will again feature 10 to 12 youth-owned businesses, removing the financial barrier some face and ensuring equitable access to becoming a vendor.
Santa's in the house! Sunday, December 3, 1 p.m.-3 p.m.
Bring the kids to see Santa and take your own photos in our special Santa area.  Nibble on cookies and take advantage of the last few hours of shopping at SPREE! 2023.
Local talent on center stage: throughout the SPREE!
Our popular stage will feature local school choirs, local dance groups (tap, jazz, and hip hop), and the beloved JLR chorus will entertain throughout the event.
Legacy Award Winners
Supported by proceeds from A Shopping SPREE!, the JLR LegacyFund has awarded more than $250,000 in grants to Wake County charitable organizations whose missions align closely with the League's commitment to empower women and youth.  This year's recipients will be announced at SPREE!
General Admission Shopping:
Thursday, Nov. 30, Noon – 6 p.m.
Friday, Dec. 1, 9 a.m. – 7 p.m.
Saturday, Dec. 2, 9 a.m. – 6 p.m.
Sunday, Dec. 3, 10 a.m. – 4 p.m.
About the Junior League of Raleigh
The Junior League of Raleigh (JLR) is the local chapter of the Association of Junior Leagues International, an organization of women whose mission is to advance women's leadership for meaningful community impact through volunteer action, collaboration, and training.
The Junior League reaches out to all women who demonstrate an interest in, and commitment to, volunteerism. Approximately 1,400 members of the Junior League of Raleigh, established in 1930, support community organizations around Wake County.
SPREE! Social Media
Facebook: www.facebook.com/AShoppingSpree
Instagram: www.instagram.com/ashoppingspree