Thank you for attending our inaugural 2016 Touch a Truck event!
The Junior League of Raleigh was proud to host crowds estimated at over 900 for our Inaugural Touch A Truck at the Julia Jones Daniels Center for Community Leadership on May 14, 2016.  See below for 2016 Touch a Truck event information.  We hope to see you in 2017 for the next Touch a Truck event.

A special thanks to our Inaugural 2016 Touch a Truck participants
Coconut Charlie's "A Bouncing We Will Go"
City of Raleigh Fire Department
Edwards Crane, Inc.
Fresh Local Ice Cream
John Deere Quality Equipment
MHC Kenworth
Old Dominion Freight Line
Pixie Dust and Spiders Face Painting
Raleigh Police Department
Wake County EMS
Waste Industries
WRAL News

---
Touch A Truck is a fun event for the whole family, granting children of all ages an ALL ACCESS pass to explore, climb, and touch trucks, emergency response vehicles and heavy machinery and meet the people who build, protect and serve us in Wake County.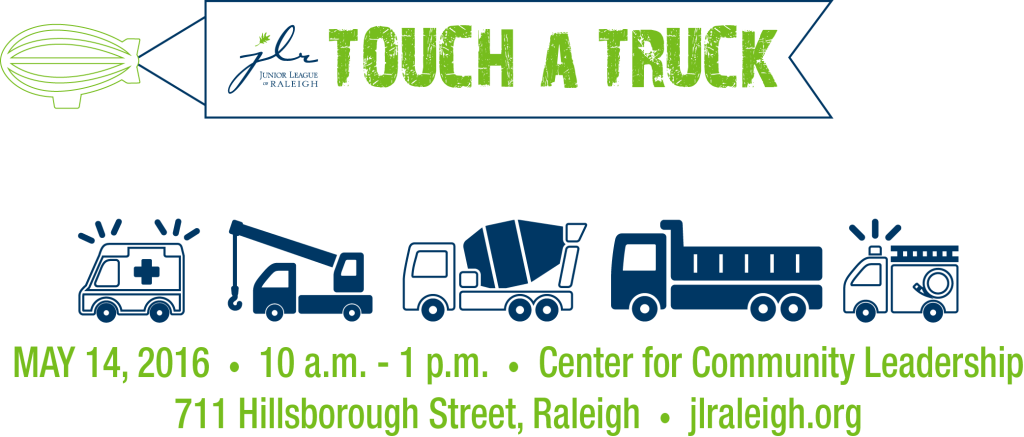 Sponsorship Opportunities from 2016 Event
MONSTER TRUCK Presenting Sponsor | $5,000 cash or $7,500 in-kind donation value or combination of both
Naming Opportunity as Presenting Sponsor
Company logo and sponsor recognition in Junior League of Raleigh annual report
Company logo, link to company website and sponsor recognition on JLR website for one year
Sponsor recognition in any Touch A Truck articles in The Link newsletter, which is distributed to all Junior League of Raleigh households
Social media recognition
Inclusion in all Touch A Truck pre- and post-event press releases
Company signage displayed at event (sponsor must provide banners)
Complimentary vendor table setup at the event
Up to 2 vehicle participants at the event (sponsor must provide attendants)
20 tickets to 2016 Touch A Truck
BIG RIG | $2,000 cash or $4,500 in-kind donation value or combination of both
Sponsor recognition in Junior League of Raleigh annual report
Company logo, link to company website and sponsor recognition on JLR website for one year
Sponsor recognition in any Touch A Truck articles in The Link newsletter, which is distributed to all Junior League of Raleigh households
Social media recognition
Inclusion in all Touch A Truck pre- and post-event press releases
Company signage displayed at event (sponsor must provide banners)
Complimentary vendor table setup at the event
Up to 2 vehicle participants at the event (sponsor must provide attendants)
15 tickets to 2016 Touch A Truck
BULLDOZER | $1,000 cash or $2,000 in-kind donation value or combination of both
Sponsor recognition in Junior League of Raleigh annual report
Company logo, link to company website and sponsor recognition on JLR website for one year
Sponsor recognition in any Touch A Truck articles in The Link newsletter, which is distributed to all Junior League of Raleigh households
Social media recognition
Complimentary vendor table setup at the event
1 vehicle participant at the event (sponsor must provide attendants)
10 tickets to 2016 Touch A Truck
EXCAVATOR | $500 cash or $1,000 in-kind donation value or combination of both
Sponsor recognition in Junior League of Raleigh annual report
Company name and sponsor recognition on JLR website for one year
Sponsor recognition in any Touch A Truck articles in The Link newsletter, which is distributed to all Junior League of Raleigh households
Social media recognition
5 tickets to 2016 Touch A Truck
HANDY HELPER | $100 cash donation
This is a unique opportunity to help children in our community. For only $100, you can be a Junior League of Raleigh Touch A Truck Handy Helper. Your generous support will provide admission for one classroom or student group of at least 25 children from Wake County that might not otherwise have the opportunity to attend.  Selection of the groups will be based on need, geographic location and transportation. (The Junior League of Raleigh will not provide transportation.)