Join the Junior League of Raleigh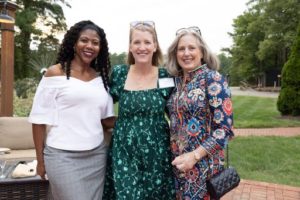 The Junior League of Raleigh is open to women who have an interest in volunteerism, developing the potential of women and a commitment to improving our community. 
Membership in the Junior League of Raleigh offers opportunities for leadership, training, skill development, networking and lifelong friendships. Most importantly, membership offers a chance to give back to the community and experience the fulfillment that comes from helping others. Our main purpose is to provide trained volunteer resources to our community partners within Wake County.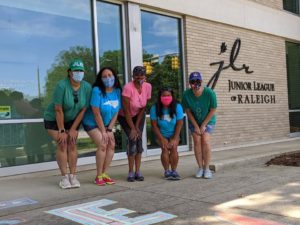 Membership begins with a Provisional year, during which you can expect to learn about our League, the community we serve and develop skills to help you transition into active membership. Active membership in the League begins after successful completion of your Provisional year. Requirements for Active membership are based on years of service in the League and are outlined in our bylaws. Each year, Active members have the opportunity to serve the League in an in-League placement or with one of ou
r community partners. Other requirements include attendance at General Membership Meetings, payment of annual dues and support of the League's
A Shopping SPREE!
fundraiser. 
HOW TO BECOME A PROVISIONAL MEMBER
Email prospectivesjlr@

gmail.com

to be added to the mailing list for current events and League happenings.
Recruitment events will take place at least monthly between September 2021 and March 2022, including in person events, virtual events, socials, opportunities to volunteer and donation drives.  Join us at our next event on October 13!

Information Sessions will be held in February and March of 2022. Attendance at one of these Information Sessions is required to apply for the Junior League of Raleigh.

Applications for the 2022-2023 Provisional year will open online on February 1, 2022 and close March 31, 2022. Submit your application and $35 application fee.

Submit pay

ments for annual dues in the amount of $158 and a one time Provisional Course Fee of $200.

Once your application and accompanying forms are completed and your payments are complete, you're in! There is no interview process to join the Junior League of Raleigh.

WHAT TO EXPECT AS A PROVISIONAL MEMBER
Participate in four trainings, a Poverty Simulator, two Community Impact opportunities and a Placement Fair between August 2022 and May 2023.

Attend General Membership Meetings in September 2022 and May 2023.
Support the League's A Shopping SPREE! fundraiser through a ticket quota and a volunteer shift in the winter of 2022.
Submit payment for Active annual dues in the amount of $200 upon completion of Provisional course.

LOOKING TO TRANSFER INTO THE JUNIOR LEAGUE OF RALEIGH?
The Junior League of Raleigh welcomes transfer members from any other AJLI League memberships. To begin your transfer process, please notify the League to which you currently belong to state your intention to transfer your membership. Your current League will need to begin the necessary paperwork to ensure a smooth transition into the Junior League of Raleigh. 

Active members transferring into the Junior League of Raleigh will spend their first placement year as a member of our Team Transfer. During that year, you will learn about ourLeague, the community we serve and the placements available to you as an Active member. Team Transfer engages our transfer members in social events and functions to help welcome them to our city and our League. 

Sustaining members transferring into the Junior League of Raleigh will be introduced to the Sustaining Committee Chair and will receive information about the various Sustainer groups and social events.

Questions on transferring memberships at any level should be sent to Member Coordinator Terri Ferraro

.