A Message From Our President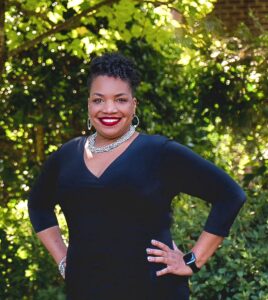 Dr. Paulette J. Evans | JLR President, 2023-2024
Welcome to the Junior League of Raleigh! On behalf of your Board of Directors, I am delighted to extend a heartfelt welcome as we embark on an exciting new year together! I am so excited to serve as the 2023-2024 President, alongside the 2023-2024 Executive Vice President, Hope Homesley. We are dedicated to highlighting our theme throughout the entire year, and that theme is ENGAGEMENT…in terms of leadership, membership, and service within our community, we want everyone to feel extremely engaged as we continue to watch COVID in our rearview mirrors.  
As we serve together, united by a common purpose, I am reminded of the incredible strength, resilience, and camaraderie that exists within our League. Each one of you brings a unique perspective, expertise, and passion that contribute to our collective mission of empowering women and fostering positive change in our community. The past few years have been filled with challenges and uncertainties, yet our organization has stood tall and persevered. We have faced adversity head-on, adapting to new realities and finding innovative ways to connect and support one another. Your unwavering commitment and dedication to our cause have been nothing short of inspiring!
Now, as we turn the page and begin this new chapter, we do so with renewed energy and determination. Our organization has always been a catalyst for meaningful progress, advocating for gender equality, women's rights, and empowerment at all levels. And I am confident that this year will be no different. Together, we will continue to champion the issues close to our hearts, working tirelessly to break down barriers, shatter stereotypes, and create opportunities for women from all walks of life. We will lend our voices to those who are silenced and ensure that our advocacy reaches every corner of our society. As we embark on this remarkable journey, let us embrace the spirit of sisterhood, unity, and collaboration. Let us support and uplift one another, knowing that our collective strength is greater than any challenge we may face.
Once again, I extend my warmest welcome to all of our members; THANK YOU for sharing your time and talents with the Junior League of Raleigh! I am deeply honored to serve as your President and look forward to the incredible achievements we will accomplish together in the year ahead. If you are not a member yet, please review our membership information and feel free to contact me directly with any questions.
With Gratitude,
Dr. Paulette J. Evans
2023-2024 Junior League of Raleigh President