Helping Horse
, a therapeutic riding program, serves physically, mentally and/or emotionally disabled youth throughout Wake County. They offer group riding lessons, focusing on providing a therapeutic experience for each rider. Helping Horse combines riding skills with games and activities to enhance riders' strength and balance, all while having fun! Most lessons take place on horseback, though occasionally they hold ground lessons for riders to learn horse care skills like grooming and tacking.
Therapeutic riding has many benefits for individuals with disabilities, including
Physical benefits:

Stretching muscles, increased joint range of motion, sensory integration and improved appetite and digestion

Psychological benefits:

Improved self-confidence, patience development, emotional control and sense of normalcy

Social benefits:

Friendship, enjoyment and increased experiences

Educational benefits:

Improved hand-eye coordination, visual spatial perception and remedial reading and math
This certified nonprofit is a fully-volunteer organization and is dependent on the charitable support of locally interested individuals and businesses, including the Junior League of Raleigh.
JLR Impact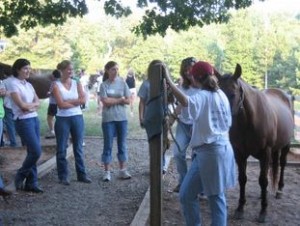 JLR volunteers serve as horse leaders and side-walkers at weekly riding lessons during the traditional school year. League volunteers also plan special events for children involved in Helping Horse.
The program currently enrolls 40 disabled individuals and is exploring the option of adding a disabled veterans program.