The Junior League of Raleigh's Strategic Plan sets the direction for the JLR for the next three years. The plan provides guidelines and puts in place strategies that will contribute to the long-term holistic success of the JLR, our members and the community we serve. The plan is sectioned by areas of focus for the League. It is a fluid document with intertwining strategies and goals. Our goal is for all members to understand the JLR mission and overall Strategic Plan.
During the development of this plan, the Bright Ideas team considered the JLR's mission and vision, as well as the values and culture of the Junior League of Raleigh. Under the guidance of the President-elect and the Board, the team solicited input from current and former leadership, the general membership and community advisors.
The theme of the plan is E = mc2. We believe this embodies the future success of the League and the core of this Strategic Plan. E = mc2 represents an engaged membership working closely with and in service to our community connections.
E = mc2
Engaged = Membership * Community Connections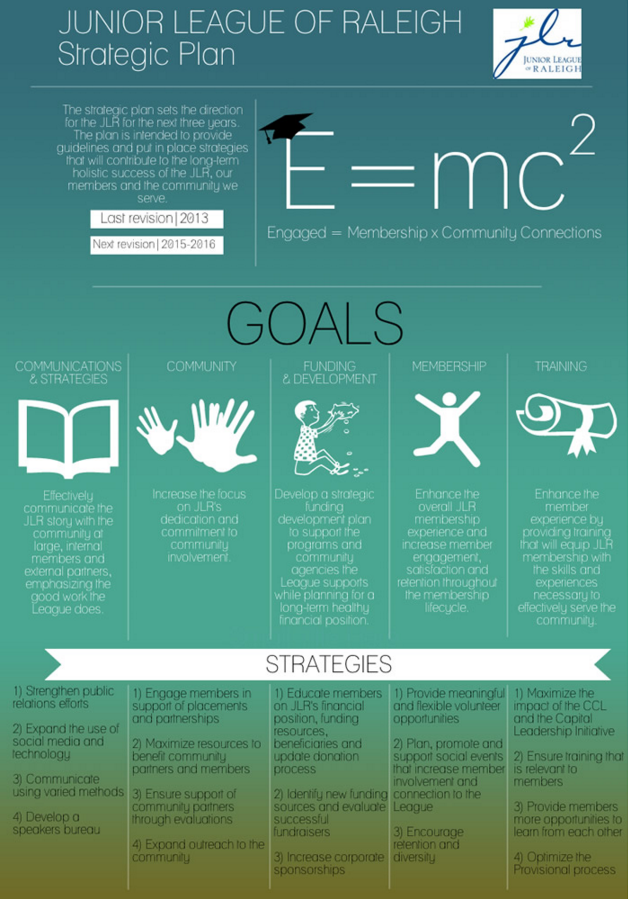 Last Revision: May 2013
Next Revision: May 2016