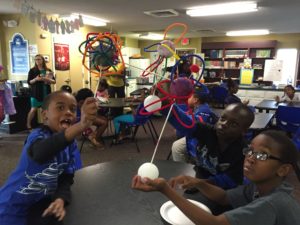 Communities in Schools of Wake County (CISWC) aims to keep students in school and prepare them for solid futures. The nonprofit agency operates programs in five after-school learning centers and 13 schools. Through their efforts, they connect children with caring adult role models and truly make a difference in their lives every day.
JLR Impact
JLR has teamed with CISWC since 2001 to provide volunteer and financial support at its Heritage Park Community Learning Center.
Each year, about 25 League members work at the center, located in a downtown Raleigh Housing Authority neighborhood. These volunteers help and encourage students in grades K-12 by stressing the importance of education and goal-setting. They provide enrichment programs and events that help students broaden their horizons; develop their talents, skills and dreams; and be part of a safe, positive community.
JLR members plan events throughout the year at Heritage Park, including a holiday celebration, a Spring Fling and three "STRIDES" events to recognize kids who have demonstrated academic achievement and growth during the last report card period.