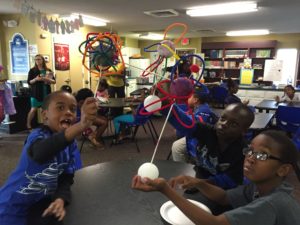 Communities in Schools of Wake County helps schools remove barriers that put students at risk of wasting potential.  CIS Wake's mission is to surround students with a community of support, empowering them to stay in school and achieve in life.  For more than 30 years, CIS Wake has provided academic support combined with academic enrichment for K-12 students in schools and public housing communities.  CIS Wake believes every student deserves:
A one-one-one relationship with a caring adult
A healthy start and a healthy future
A chance to give back to peers and community
A safe place to learn and grow
A marketable skill to use upon graduation
JLR Impact
JLR has partnered with CIS Wake since 2001 to provide volunteer and financial support at its Heritage Park community learning center. Each year, approximately 20 League members volunteer at the learning center where they serve as tutors to support the development of literacy and other academic skills, provide meals to address food insecurity and build relationships with the students they serve.  JLR members plan an annual holiday shopping spree and other special events throughout the year to recognize students who have demonstrated academic achievement and personal growth.