Feeding Hungry Children in our Community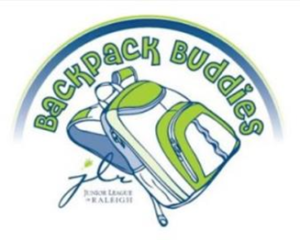 Feeding hungry children has become one of the Junior League of Raleigh's top priorities.
In just eight years, JLR's BackPack Buddies program has gone from serving eight children at one elementary school to feeding more than 250 kids each week at five elementary schools. League members also now feed the children we serve at StepUp Ministry and AventWest Children's Mentoring.
"The growth of the League's BackPack Buddies program has been astounding," said Samantha Hatem, President of the Junior League of Raleigh. "Each year, we've pushed ourselves to expand, to get more donations, to get the necessary funding and to find new schools to partner with so that we can feed more hungry children. It's been a labor of love for so many League members because the impact we make with this program is real and tangible. At the end of the day, it feels good to know you've fed a few hundred children for the weekend."
The Junior League of Raleigh started its BackPack Buddies program, which provides weekend meals and snacks to elementary kids during the school year, in 2011. League members Andrea Fox and Alicia Morris spent a year working with Inter-Faith Food Shuttle, studying the program and determining how the League could best implement it. The program aligned perfectly with the League's mission of serving at-risk youth in our community. A key to making the program a success was the League's basement space at its then-new headquarters on 711 Hillsborough St., which enabled us to store food and pack hundreds of bags at a time.
That first year, JLR's BackPack Buddies team only delivered bags to Lacy Elementary, a school that Inter-Faith paired JLR to work with.
Each year since, the League has added more children and more schools by actively working with school social workers to find out which schools need the most help.
The League began this school year serving children at Lacy, Hunter and Root elementary schools, and by January, the BackPack Buddies team had capacity to add students in need at Conn and Beaverdam elementary schools. The team also started delivering bags to children served at the League's after-school and evening mentoring programs at StepUp and AventWest.
"We are thrilled to have this opportunity to further ensure that kids in our community are happy and well-nourished on the weekends," said Jennifer Haigwood, who leads this year's BackPack Buddies team with Tiffany Chan.
The League will stretch its reach yet again this summer. Last month, the League's Management Council voted to continue the League's partnership for a second summer with Alexander Family YMCA and will again serve more than 200 kids at the Y's Camp High Hopes.
"We're now reaching almost 500 children a year with our BackPack Buddies program, making the Junior League one of the largest providers of weekend food bags in the Triangle," Hatem said. "We're so proud of what we've been able to accomplish and we love the impact we're making each week in our community."
If you are interested in learning more about how you may contribute to the BackPack Buddies program, learn more here.