5 Reasons We Can't Wait for A Shopping SPREE! 2019
'Twas the weeks before SPREE! and the event's committee,
League members, vendors and sponsors were almost ready,
To deck the halls and post the signs, as the tradition drew near,
It was time to serve up SPREE! in its 35th year!
Here's five reasons, that we really can't wait
For the November 14 SPREE! kickoff date!
1. You can finally find "that thing" for THAT aunt.
With more than 150 regional and national exhibitors for shoppers seeking the latest in fashion and home decor trends, unique gifts and holiday merchandise, you're sure to find the perfect gift for your loved ones who are notoriously hard to shop for! Delicious gourmet foods? Festive holiday decor? The latest fashions? Find the perfect gift at SPREE!  
2. Because Amazon doesn't make you cocktails
Cheers to SPREE!'s newest event! If you want to make a night of shopping with friends, kick off the holiday season with Night Out @ SPREE! Sponsored by WakeMed and Bailey's Fine Jewelry, the night includes silent auction items up for bid and a Bailey's raffle with all proceeds benefiting programs to help women and at-risk youth in Wake County.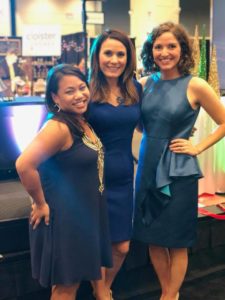 3. Where else can you be festive, drink and shop over 150 exhibitors all in one place?!
Each year you can find favorite vendors that make sure to return to SPREE! to offer Raleigh shoppers the gifts they keep coming back to find! Don't miss new vendors offering merchandise you can't find the rest of the year! 
4. A nifty reusable shopping bag to stash your finds! 
What color will the SPREE! bags be this year? If you're like us, you now have a colorful collection of SPREE! Bags through the years. If you don't want to carry all your spectacular finds around the Raleigh Convention Center, don't worry! We have a bag check to free up your arms to make room for more shopping!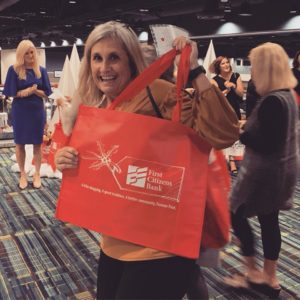 5. Giving back
Your ticket purchase goes back to the Junior League of Raleigh to directly benefit our community programs. When you come to Night Out @ SPREE! Don't miss our Legacy Grant Awards. Proceeds from A Shopping SPREE! have also made JLR's Legacy Fund possible, awarding more than $220,000 in grants to nonprofit agencies since its launch in 2004. Each year, the JLR presents these awards to a handful of Wake County charitable organizations that align with the League's focus on women and children. 
Help us with your donation! This year, in honor of the Junior League of Raleigh's 90th Anniversary, we're collecting donations for our newest community partners. Before you take the elevators down to the SPREE! floor, you'll see bins to collect kitchen utensils for The Green Chair Project and kids' underwear for A Note in the Pocket.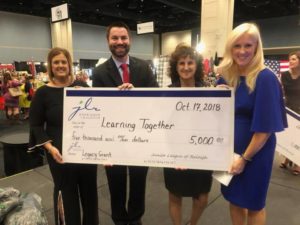 Click HERE to learn more about the events, vendors and opportunities to treat yourself to A Shopping SPREE! November 14-17, presented by First Citizens Bank.