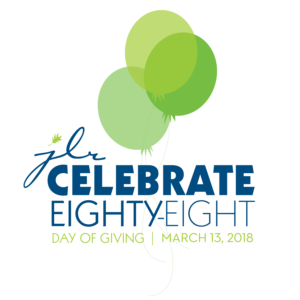 On March 13, 2018, be a part of the Junior League of Raleigh's first Day of Giving!
The Junior League of Raleigh is turning 88, and our birthday wish is to raise $25,000 for our Annual Fund in a single day.
By giving to the Annual Fund, you make our community a better place through your support of the League's community placements, as well as meaningful training and leadership development opportunities for League members.
Here's how you can make an impact:
DONATE: Give your best gift on March 13 to JLR's Annual Fund by going to jlraleigh.org/celebrate88 or calling 919-787-7480.
SPREAD THE WORD: Complete a Day of Giving Sign describing why you gave to JLR, then share a selfie with your sign on social media. Follow JLR social media accounts all day to watch the celebration unfold. #celebrate88
SHOW YOUR JLR PRIDE: Wear your JLR t-shirt and change your social media profile picture to a JLR Day of Giving image.  
Day of Giving Graphic Downloads
I Gave… Selfie Sign for Social Media
Facebook Day of Giving Profile Pic (coming soon)
Instagram Day of Profile Pic (coming soon)
Your best gift will help us carry on the tradition of lifting up our community and building bright tomorrows.