Welcome Lillian M. Davis, Our New League Director!
President Gail Reid-Vestal, the Board of Directors, the Personnel Committee and League Director Search Committee are pleased to officially introduce our new League Director, Lillian M. Davis.  Lillian began her new role on Monday, January 3.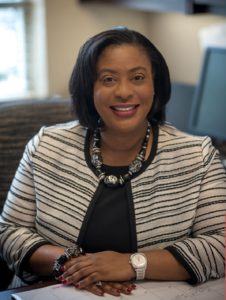 A native of Four Oaks, North Carolina, Lillian is the only daughter to James Michael Davis (an Army veteran) and Rev. Dr. Debra C. McKoy (a retired administrator and minister). Lillian graduated in May 2005 from North Carolina Agricultural and Technical State University, and also received her Special Education Teaching Certification from Fayetteville State University. Lillian has traveled across North Carolina advocating for mental health, teaching diversity in leadership development, implementing the purpose of operational structures for non-profit organizations and fostering leadership skills in emerging leaders.  Her previous professional roles include Director of Business Development for Pride in North Carolina, LLC; Regional Director of Business Development with Strategic Behavioral Health; Regional Intake Director for NC Mentor; and Special Education Teacher at West Clayton Elementary School.
Lillian is dedicated to several community organizations including Raleigh Alumnae Chapter-Delta Sigma Theta Sorority, Garner Chamber of Commerce, NAMI Wake County, Greater Raleigh Area NPHC, NAACP, and NAUW, National Association of Women. Recently, she was appointed to serve on both the COVD-19 Vaccination Advisory Council and the Health Equity Coalition with the NC Department of Health and Human Services.
She holds the words of Shirley Chisholm as her mantra- "If they don't give you a seat at the table, bring a folding chair."
"I've carried an invisible folding chair my entire professional career. I've lived to serve others and to be a voice for those who have no voice," Davis said. "God has allowed me to sit at the 'table of opportunity' many times. My vision for this new role is for the Junior League of Raleigh to ignite change in the Wake County community and sit at new tables of opportunity. We must expand our focus and partnerships to meet the needs of the community during this pandemic and in the future. I am proud of the rich heritage the Junior of League of Raleigh has maintained in the community and now is the time to take our organization to the next plateau. Junior League of Raleigh, thank you for entrusting this role to me as your new League Director. I accept the challenge and stand ready to serve."
The League Director manages the complete portfolio of staff and volunteer activities for the JLR, including the execution of major fundraising events such as A Shopping SPREE!, Day of Giving and the Governor's Inaugural Ball. She works closely with the JLR President and is expected to build on existing and establish new community partnerships to help JLR meet its mission.
President Gail Reid-Vestal notes "After an extensive search process last Fall, we are so pleased to bring Lillian on board to foster in the next stage of opportunity and growth of the JLR. On behalf of myself and the JLR board, we are delighted to welcome Lillian and her wealth of experience to the JLR family."