Sharing Our Home with the Community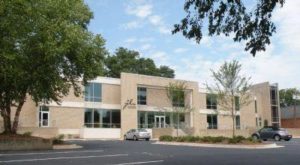 The Julia Jones Daniels Center for Community Leadership (CCL) may be one of Hillsborough Street's best kept secrets. Not only is it the Junior League of Raleigh's headquarters, it also serves as a community resource, offering convenient, accessible and economical meeting space rental for an array of organizational needs.  
"The CCL really is the result of so many previous League leaders being willing to take a chance and dream big," said Samantha Hatem, President of the Junior League of Raleigh. "We started dreaming about a community gathering space more than a decade ago. It wasn't an easy path and there were hurdles along the way, but today we have a thriving space that we are thrilled to be able to share with the community."
Alisha Smith, of YMCA of the Triangle, partnered with JLR to host a School Programs Summit, a workshop for more than 100 people. Upon the referral of a colleague, Smith priced the CCL and was sold on its convenience and affordability. The discount she received for being a nonprofit was a bonus.
"The amenities were clean and well-organized, and the staff was very helpful, graciously letting us borrow a few items for our event," Smith said. "The overall experience of coordinating the Summit was easy,. Everyone was eager and willing to be of assistance. I enjoyed working with Teresa Robinson and the staff at the CCL."
At the CCL, planning an event can be easy! The CCL is equipped with cutting-edge technology and has a variety of meeting room options, accommodating groups from 10 to 180. With all-inclusive and economical rates, you don't have to compromise when it comes to creating a quality event. And we understand how important it is that all your event needs are met. Our friendly staff guides you through the reservation process and day-of items, so that you can focus on other aspects of the event. Convenient parking, including an overflow lot, ensures your attendees have a positive event experience from the moment they arrive. Flexible room arrangements allow us to set up the room to best suit your meeting needs. Access to break rooms with sinks and refrigerators help with any catering needs for your event.
"The CCL really has moved far beyond just a hub for our members. It is becoming the true gift for our community that our past leaders had hoped it would be," noted Hatem.
We are thrilled to welcome organizations like the YMCA of the Triangle into our home! We invite you to tour the CCL to see firsthand all that it has to offer our community. To schedule a tour, please contact the Julia Jones Daniels Center for Community Leadership at 919-787-7480, ext. 1061, or email cclreservations@jlraleigh.org. Click here for more information on amenities and rates.