Junior League of Raleigh awards $20,000 to community nonprofits
Meet the 2020 Legacy Grant recipients
Four well-deserving Wake County charitable organizations are receiving grants of $5,000 each during the Junior League of Raleigh's a (virtual) SPREE! 
The Junior League of Raleigh announced and presented the awards live on our Facebook page on Friday. A (virtual) SPREE! continues through Monday. 
Since its inception in 2004, JLR's Legacy Grant has awarded nonprofit agencies $240,000 — all made possible by proceeds from A Shopping SPREE! 
Team Community Funding carefully reviews all grant applicants that are nominated by League members and select the recipients the committee feel best support the local community and place an emphasis on children and women. JLR has a long-standing commitment to empowering Wake County women and youth and this year's recipients further that mission through housing, health and education.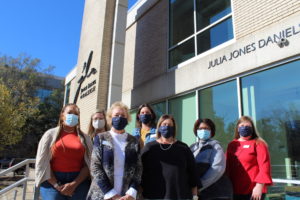 (from left: A Shopping SPREE! co-chairs Nadine Vargas Stewart & Taylor Wilson Twine, League Director Dorothea Bitler, Funding Vice President Caroline Ives, President Randi Ligon, Community Funding Co-captains Toni Chatman & Brooke Tonkin)
The Junior League of Raleigh is pleased to announce the 2020 Legacy Grant Award recipients:
The Frankie Lemmon School and Developmental Center
Frankie Lemmon School and Developmental Center's mission is to educate and celebrate children of all abilities. The grant award will assist in fulfilling the need for Frankie Lemmon students to receive monthly therapy/educational toolkits to support at home learning and therapy. Preschoolers learn best through hands-on activity and play, which is why it is so critical that children at risk of delays or with developmental delays be given the proper tools to support therapy and learning at home. The toolkits were created as an educational resource during COVID-19 pandemic and will continue to be utilized after COVID-19.
Marsha Hargette, executive director of Frankie Lemmon School and Developmental Center, at far right.
The Garner Road Community Center practices Christian values to develop the total person in spirit, mind and body through character development programs that empower children, families and communities to achieve lifelong successes. Garner Road Community Center plans to use the grant towards three areas of increased need, brought on by COVID-19: improving technology within the center, providing more wholesome meals and snacks, and increasing transportation to and from the center. 
The mission of Haven House Services is to help youth be safe, supported and successful. Haven House helps our community's most vulnerable young people. This includes youth experiencing homelessness, youth in crisis, youth involved or at risk for involvement with the juvenile justice system, and youth having difficulty at school or home. Haven House will use the grant award for program operational expenses incurred due to the increased needs and challenges brought on by COVID-19.
Michelle Zechmann, chief executive officer of Haven House Services, at far right.
The mission at The Women's Center is to remedy the cycle of trauma, abuse, violence and homelessness among women in The Triangle, assisting women in achieving self-sufficiency, realizing their dreams of a fulfilling and dignified life. The Women's Center addresses critical needs such as meals, hygiene, clothing, mail services, transportation assistance, and safe, affordable housing. With the Legacy Grant, The Women's Center will increase the number of units in the Integrative Permanent Community Supportive Housing Program and increase the availability of immediate, safe and permanent housing with anonymity for women fleeing domestic violence, interpersonal violence and human trafficking.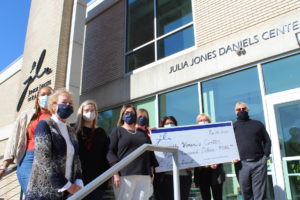 Brace Boone III, executive director, far right, and Nora Robbins, philanthropy officer, second from right, of The Women's Center.
More about a (virtual) SPREE! at ashoppingspree.org