UPCOMING EVENTS
Tuesday Feb. 9 | Sustainer Connect Luncheon (To sign up, email Carleen Shaffer at lcjshaffer@yahoo.com) Tuesday Feb. 16 | Hunt Library Tour (Register on jlraleigh.org, Calendar & Events. Only a few spaces left) Visit jlraleigh.org, Calendar & Events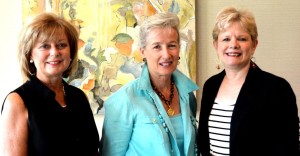 Happy New Year from the Sustainer Leadership Team!
A new year brings a sense of energy, hope and change. We wish to carry this forward in 2016 with our activities in the community, within the League and in our social gatherings. One such change is to the JLR governance and special slate for the JLR leadership roles of President-elect, Executive Vice President, and Executive Vice President-elect, details found in this issue of the PINKlink.
We have already kicked off the New Year with a gathering of twenty Sustainers for lunch and docent-led tour of the truly exceptional Escher Exhibit at the North Carolina Museum of Art on January 8. Here are the events scheduled for February and March.
February 9: Sustainer Connect is gathering for an informal lunch at Coquette Brasserie at North Hills. For more information, email Carleen Shaffer at lcjshaffer@yahoo.com.
February 16: We are excited to offer a tour of the James B. Hunt Jr. Library followed by lunch at the Carol Johnson Poole Clubhouse Terrace Dining Room, Lonnie Poole Golf Course, North Carolina State University Centennial Campus. The library, a state-of-the-art facility, has been featured in media such as PBS's "Cool Spaces," a program featuring innovative architecture. The event is filling up fast – only a few spaces are left! Register now at jlraleigh.org, Calendar & Events.
March 23: Sustainers will host the SAFEchild Volunteer Appreciation Event. The early evening event, which provides a social and program to honor SAFEchild volunteers, will be held at the Julia Jones Daniels Center for Community Leadership. Sustainers are needed to plan and staff the event. For more information or to indicate willingness to help us with the event, email Sustainers@jlraleigh.org.
March 29: We have lined up a special tour at the North Carolina Museum of History to view the debutante gowns by the esteemed Raleigh designer Willie Otey Kay and Southern-themed paintings from the James-Farmer Collection, followed by lunch in the scenic "Glass Box." Online registration will be required and will open in early February. More details to come soon!
Take a look at the Sustainer Calendar for more information on these and other exciting Sustainer events. Also, by popular demand, the Arrangements Committee has compiled the recipes for the delicious food served at the 2015 Sustainer Holiday Social. Click here to view recipes. A special thanks to Angie Harwanko and her team.
We look forward to seeing you in 2016!
~ Lucy, Monique & Lynette
Check Out the JLR Impact Video
Please check out this awesome story of our League here. And remember to share this with friends, family and colleagues!   Our IMPACT video is live!!
Special Nominating Slate for PE, EVP and EVPE
The Nominating Committee has just completed a special slate for the President-elect (PE), Executive Vice President (EVP), and Executive Vice President-elect (EVPE) leadership roles. These members will serve the League in these positions in 2016-2017. The slate is as follows: PE – Marisa Bryant, EVP – Jen Reel, and EVPE – Liz Riley-Young
Click here for more information on the slated leaders. Slating for the remainder of the Board, Management Council and elected positions will take place Saturday, January 30, with results posted the following Monday.
Updated Bargain Box Donation Guidelines
The love and attention you have given to the Bargain Box recently is starting to pay off! While we still have a long way to go, the past two months have seen better sales and many enthusiastic comments from shoppers who are pleased with both the quality and abundance of merchandise. The Bargain Box has reaped the benefits of the retail knowledge, passion and time donated by JLR Sustainer volunteer extraordinaire Jeanne Clay. Thank you, Jeanne! Please keep the quality donations coming in, volunteer in the store when you can and shop frequently! Also be sure to "like" Bargain Box on Facebook and follow @jlr_bargainbox on Instagram to check out the latest in-store finds and sales news. And don't forget that as a Sustainer, you are eligible to have your items picked up by emailing bbxpickup@jlraleigh.org!
Have you ever noticed that your Bargain Box donation form states that you, the donor, are responsible for estimating the value of your donations? Starting in January 2016, to better comply with that IRS regulation, the League will no longer be giving members a dollar value for items donated to the Bargain Box. So be sure to make a list of your donations before you arrive, or (as a few of our members have done) take pictures of your items with your phone! While determining the value of your items is up to you, please feel free to use the Bargain Box pricing guide included in the revised donation guidelines to help you determine a value. The newly revised guidelines are available here and under "Documents" in the member section of jlraleigh.org.
JLR Facebook Sustainer Group – Join Us!
We encourage you to join the JLR Sustainer Facebook Group, a private group for Sustainers to connect and build a community for sharing and supporting each other. We have over 200 members and growing! Contact sustainers@jlraleigh.org for instructions on how to join the JLR Sustainer Facebook Group.
Sustainer Connect
Sustainer Connect provides a means for Sustainers to informally connect. To join, contact sustainers@jlraleigh.org. On February 9 from 11:30 a.m. to 1:30 p.m., meet for lunch at the Coquette Brasserie at North Hills. RSVP is required. To RSVP, contact Carleen Shaffer at lcjshaffer@yahoo.com.
Community Service Opportunities & Events
Want to volunteer in the community? Choose from several JLR Community Service opportunities. From the Member page, go to Resources, then Sustainer Resources or view your Community Service Opportunities here.
Member Suggestion Box
Have an idea about how to make the League better? Have a question that you would like to have answered? Want to see something new? Let us know! Please share your ideas! All suggestions are sent to our Member-at-Large, Lanier McRee, and are anonymous.