a (virtual) SPREE! 2020 Events Announced!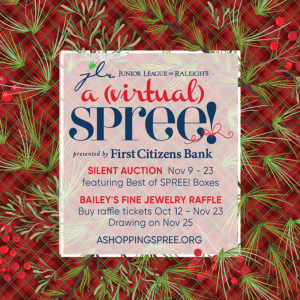 The Junior League of Raleigh is excited to announce a (virtual) SPREE!, presented by First Citizens Bank. Due to the COVID-19 pandemic, our annual in-person A Shopping SPREE! at the Raleigh Convention Center has been postponed until next year. However, we're committed to showcasing our exhibitors and local businesses that have made our event successful for over 30 years, while supporting community organizations that rely on us throughout the year.
a (virtual) SPREE! will showcase a:
RAFFLE: An Online Raffle, brought to you by Bailey's Fine Jewelry. Who doesn't want a Bailey's Box under their Christmas tree? Something sparkly is always a winner! Try your luck and purchase a raffle ticket or two. Someone will win! Tickets are available on the Junior League of Raleigh website. Raffle sales will run October 12-November 23. Winners will be announced via Facebook LIVE on November 25.
SILENT AUCTION: There's something for everyone at our online Silent Auction. From family portraits to local getaways to bourbon baskets, we've got you covered for the holidays. Bid early and check back often as new items will be continuously added. The only decision you will need to make is whether you will gift the item you won or keep it for yourself! Our Silent Auction will be held November 9 – November 23. A link to our silent auction will be live on our website (jlraleigh.org) on November 9.
BEST OF SPREE! BOXES: What could be better than a little bit of this and just a touch of that? Get your perfectly curated Best of SPREE! box from some of our best of the best SPREE! exhibitors and local businesses, packaged and ready to go. You'll feel like SPREE! arrived personally to your doorstep without leaving your house! We're expecting these boxes to go quickly, as only 50 will be offered. Don't miss out and bid early in the Silent Auction starting Nov. 9, or simply use our BUY NOW option to purchase a curated box. We can't wait to see what's inside! A link to our silent auction will be live on our website (jlraleigh.org).
We look forward to hosting a (virtual) SPREE! this year and encourage you to participate safely from your couch in your jammies! Follow a (virtual) SPREE! on social media at
A Shopping SPREE! on Facebook and Instagram. Thank you in advance for your continued support of The Junior League of Raleigh.
a (virtual) SPREE! Co-Chairs
Taylor Wilson Twine & Nadine Vargas Stewart