A Shopping SPREE! 2020 Canceled. Watch for Virtual Events!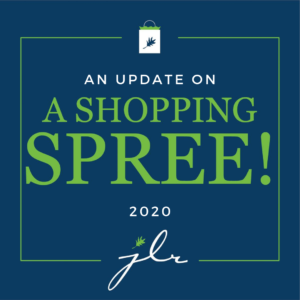 After thoughtful consideration during this unprecedented pandemic, the Junior League of Raleigh has decided to cancel A Shopping SPREE! 2020. Out of concern for the safety of our exhibitors, shoppers and JLR members, we unfortunately must postpone this event until next year.
A Raleigh tradition for more than 30 years – this year's event was originally scheduled for November 19 – 22 at the Raleigh Convention Center. Our decision was made primarily due to current state regulations and the feasibility of hosting such a large event where 10,000 – 12,000 shoppers were expected.
Our dedicated team was excited to plan A Shopping SPREE! this year and has been working to craft several virtual opportunities for holiday shopping fun! We will soon be sharing information on the following 2020 SPREE! virtual events:
Best of SPREE! Boxes
Online Silent Auction
SPREE! Raffle
Check back here for updates! Thank you for your understanding and continued support of the
Junior League of Raleigh.
For additional questions, please email our Co-Chairs Nadine Vargas Stewart and Taylor Wilson Twine at jlrashoppingspree@gmail.com.