Women's Empowerment Conference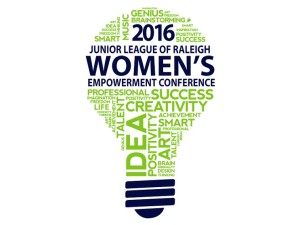 LIVE A RICH LIFE – INVEST IN YOU
You are your most important investment. Join the Junior League of Raleigh's Team Community Connect for our annual Women's Empowerment Conference and take a look at how you can invest in yourself and maximize your potential. All are welcome — membership in the Junior League of Raleigh is not required — and admission is  FREE.
Saturday, April 30, 2016 | 8:30 a.m. – 2:15 p.m.
Junior League of Raleigh's Julia Jones Daniels Center for Community Leadership | 711 Hillsborough Street
Agenda
8:30 a.m. | Breakfast
9 – 9:50 a.m. | Keynote Speaker Lucetta Zaytoun | How To Bring Your WOW!
Certified Professional Life Coach and founder of Your Life In Bold, LLC Lucetta Zaytoun wishes for each individual or group to realize their dreams and turn them into reality by banishing self-doubt and replacing it with self-empowerment. She is committed to help people build self-confidence, claim their voice, own their courage, and change their life through bold experiences. Don't miss this powerful presentation!
10 – 10:50 a.m. | Martha Aldridge | Financial Management
Professional financial advisor Martha Aldridge takes a straightforward approach to building the future you desire. Take a look at how you can invest in yourself and reach your financial goals.
11 – 11:50 a.m. | Cyndy Ratliff | The Organized Women- From Frantic to Freedom
Cyndy Ratcliffe will share time management tips on putting order into our days. As a Time Expert and one of just five Certified Professional Organizers® in North Carolina, Cyndy works with individuals in offices and homes to help them cull what is no longer important and then to be better organized with what remains. Her assistance helps individuals to reduce stress, boost their image and be more productive through her workshops, seminars and hands-on coaching.
Noon – 1:15 p.m. | Lunch & Breakout Sessions
1:30 – 2:15 p.m. | Cyndy Ratliff | The Organized Woman 2016 — Don't Agonize, Organize!