The Junior League of Raleigh Hosts its 34th A Shopping SPREE! Presented by First Citizens Bank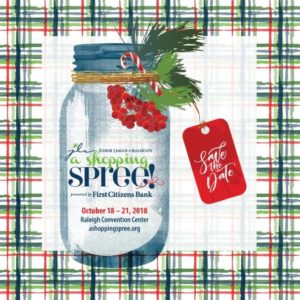 Press Release
The Junior League of Raleigh Hosts its 34th A Shopping SPREE!
Presented by First Citizens Bank
 Central NC's Premiere Shopping Event Returns to the Raleigh Convention Center
Raleigh | September 18: The Junior League of Raleigh's popular holiday tradition is back, offering a unique shopping experience while raising money for nonprofit programs in Wake County. A Shopping SPREE! will host more than 180 regional and national exhibitors at the Raleigh Convention Center Oct. 18-21.
Throughout the four-day event, shoppers can enjoy live local entertainment, including choral and dance groups, as they find the latest in fashion and home decor trends, unique gifts and holiday merchandise.
"We're honored to host an event like SPREE!, where proceeds go back to local programs, such as BackPack Buddies and SAFEchild," said Bernette Stivers, A Shopping SPREE! Co-captain. "In the season of giving, shoppers can find special gifts for their family and friends while knowing their dollars go to improving our community."
Proceeds go back to local youth programs
Since 1985, the Junior League of Raleigh's (JLR) A Shopping SPREE! has raised millions to support local nonprofit organizations committed to serving area youth. Proceeds from the 2018 A Shopping SPREE! help support the Julia Jones Daniels Center for Community Leadership and community projects, particularly in the League's focus area of promising youth.
The League's benefitting community partners include BackPack Buddies, SAFEchild, Brentwood Boys & Girls Club, StepUp Ministry, Helping Horse, Heritage Park Community Learning Center and AventWest Children's Mentoring.
Proceeds from A Shopping SPREE! have also made the JLR's Legacy Fund possible, awarding more than $190,000 in grants to nonprofit agencies since its launch in 2004. Each year, the JLR presents these awards to a handful of Wake County charitable organizations that focus on women and children.
Special events get SPREE! shoppers in the holiday spirit
In addition to general admission shopping, A Shopping SPREE! offers special events, which SPREE! Co-captain Carrie McMillan says are not to be missed.
"We're excited for this year's Preview Party, where shoppers can get an early jump on all our exhibitors have to offer," says McMillan. "We'll award our Legacy Grants to deserving local nonprofits that evening, and one of our Preview Party sponsors, Bailey's Fine Jewelry, has even more giveaways for partygoers this year."
Preview Party: Wednesday, Oct. 17, 7-10 p.m.
A sneak peek of all your favorite SPREE! exhibitors, sponsored by WakeMed Health & Hospitals and Bailey's Fine Jewelry.
Merry Morning Shopping: Thursday, Oct. 18, 9-11 a.m.
Beat the crowds to SPREE! at this exclusive, stroller-free morning shopping event, sponsored by St. David's School.              
Tickets for A Shopping SPREE! and special events are on sale now. For tickets and sponsorship information visit: jlraleigh.org/fundraising/a-shopping-spree/
General admission shopping:
Thursday, Oct. 18, 11 a.m. – 7 p.m.
Friday, Oct. 19, 9 a.m. – 7 p.m.
Saturday, Oct. 20, 9 a.m. – 6 p.m.
Sunday, Oct. 21, 9 a.m. – 4 p.m.
###
About the Junior League of Raleigh
The Junior League of Raleigh (JLR) is the local chapter of the Association of Junior Leagues International, an organization of women committed to promoting volunteerism, developing the potential of women and improving the community through the effective action and leadership of trained volunteers. Its purpose is exclusively educational and charitable. The Junior League reaches out to women of all races, religions and national origins who demonstrate an interest in, and commitment to, volunteerism. Since 1930, JLR has donated more than $5.1 million to education, health and other services to women and children in Wake County. Now in its 89th year, nearly 1,500 members of the Junior League of Raleigh support community organizations around Wake County.
SPREE! Social Media
Facebook:                     www.facebook.com/AShoppingSpree
Instagram:                    www.instagram.com/ashoppingspree
Twitter:                         twitter.com/AShoppingSpree