Pinwheels at JLR building bring awareness to child abuse prevention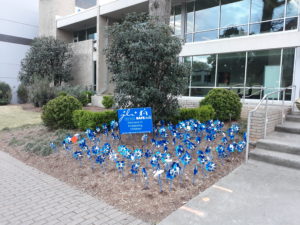 In recognition of Child Abuse Prevention Month and in support of our community partner SAFEchild, we have planted a pinwheel garden in front of the Junior League of Raleigh building, the Julia Jones Daniels Center for Community Leadership.
Prevent Child Abuse America introduced the Pinwheels for Prevention Campaign in 2008.
According to their website, the pinwheels "represent childlike whimsy and lightheartedness and our vision for a world where all children grow up happy, healthy, and prepared to succeed in supportive families and communities."
Hopefully you will have a chance to pass by our pinwheel garden in April. As you do, you can be reminded of the important part that each of us plays in preventing child abuse by building and fostering caring connections and creating a supportive community.
If you're interested in learning about other ways to recognize Child Abuse Prevention Month this April, Prevent Child Abuse North Carolina has a variety of ideas and resources at preventchildabusenc.org.