North Carolina Junior Leagues Summit on Inequities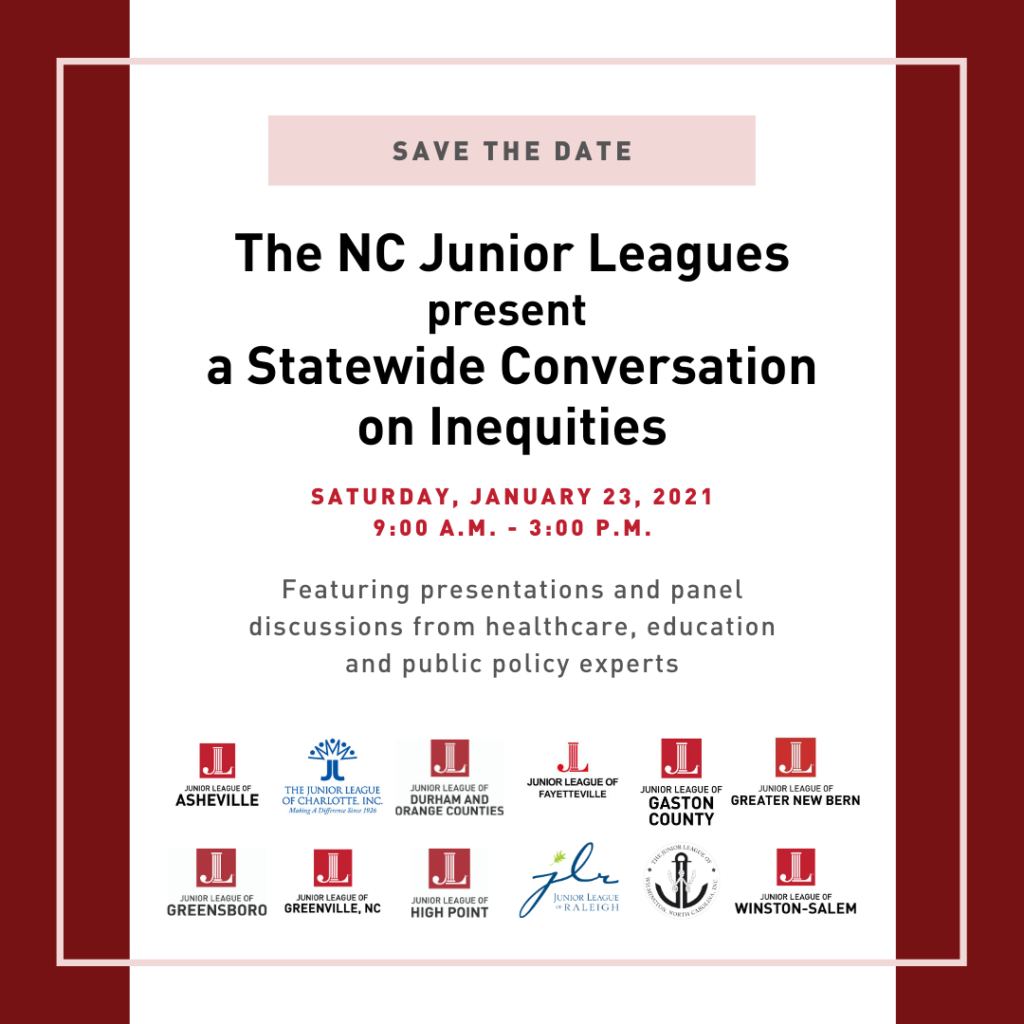 Registration link
When: Jan 23, 2021 8:30 a.m. EST
Registration is required in advance for this meeting.
After registering, you will receive a confirmation email containing information about joining the meeting.
Please make sure to sign-up for an education breakout session after you register for the event using the Sign-up Genius link below. The breakout session options include Early Childhood, K-12, and Higher Education.
Full program and event details
Speakers
The program consists of a wide-range of presenters on the topics of healthcare, education, and public policy, including keynote speaker, Dr. Sonny Kelly
Full speaker bios are available at this link.
Lunch options
Participants are encouraged to support local restaurants and food trucks. Many leagues have provided suggestions in their area.
Bookshop
Please visit our Bookshop page at https://bookshop.org/shop/ncjlsummit.  Our presenters have recommended resources so attendees can continue learning about the topics discussed and continue these conversations beyond the event itself.  This link contains both publicly-available resources and resources available to purchase.  We have also included recommendations submitted by members from the North Carolina Junior Leagues as well.
The North Carolina Junior Leagues Summit on Inequities is an affiliate of Bookshop.org and will earn a ten percent commission on any purchases made through this link.  All commissions will be collected and donated as part of the virtual food drive with Feeding the Carolinas and their partner food banks, in order to increase our impact to these wonderful organizations.  In order to support the virtual food drive, please make sure to place any orders by Jan. 29.
Service Project: Virtual Food Drive
The North Carolina Junior Leagues  Summit on Inequities program participants will partner with Feeding the Carolinas to create a virtual food drive to support those communities in need with food donations during this very critical period.
Your donations will support programs and emergency food response items that allow each of the food banks that serve under the Feeding the Carolina's umbrella to purchase much needed food items.
Thank you in advance for your support of our communities and supporting one of the core values of our Leagues that "Community is essential to human well-being … and make a greater impact on the world around us."
Please visit NC Junior Leagues -Virtual Food Drive to donate and select your League Affiliation/Food Bank that you would like your contribution to go towards. More info on food banks.