JLR Volunteers Help Kids Look To Their Futures With a Career Fair
Each week nearly 120 elementary and middle school students fill the Brentwood Boys & Girls Club with eager excitement. One evening this month, they brought even more of their energy as they toured tables of colorful displays, planning for their futures. Junior League of Raleigh volunteers welcomed local professionals to share their stories of success for the Career Fair on January 16, 2020. The annual event showed kids a variety of professions including fields like fitness, health, art, science and the military. More than 15 community partners and presenters shared their experiences with the kids. Students then had the opportunity to interact, ask questions, and dream about what is possible for them.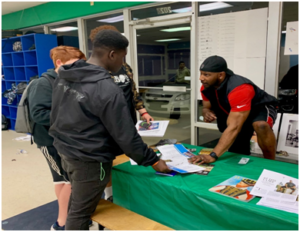 JoJo Polk, owner of CORE Fitness Studios and former professional athlete, captivated the kid's attention with stories about his fitness journey and the importance of staying healthy at a young age. Polk attributes much of his success to his time in the Boys & Girls Club as a kid. He worked hard to become a professional athlete until a neck injury left him paralyzed. Grit and determination allowed him to overcome this obstacle to be the person he is today. Polk's message to the kids was humbling and inspirational as he reminded them that they have opportunities and the ability to become anything they want to be.  Polk relates fitness to an individual's journey. He said, "Fitness is about identifying where someone is and taking them beyond that point. That's how someone will find out who they are and where they need to be."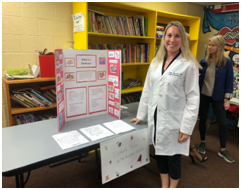 Along with fitness, the kids also had the opportunity to learn about healthy food habits from JLR member and Clinical Dietician Lizzy Thier. Lizzy was onsite to coach and encourage kids to break stigmas about eating healthy "In the healthcare field, we primarily focus on the condition, but taking care of ourselves from an early age will help us avoid conditions like heart disease, kidney disease, and obesity," said Lizzy.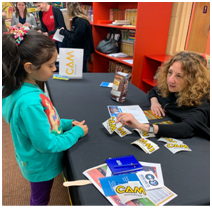 Community partner and the Executive Director of Contemporary Art Museum (CAM) in Raleigh, Gab Smith, was also onsite to talk to the kids about the importance of art. CAM has been a partner of the Brentwood Boys & Girls Club for more than 6 years and provided art projects for kids that would connect them to careers. Gab said, "Art is a great way to express yourself. The kids will have the opportunity to gain leadership, confidence, and other important life skills through the expression of art."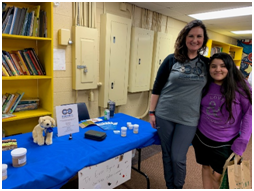 Dr. Erin Byrd of Socks and Co. was another community partner onsite that provided the kids with interactive specimens to instill the importance of biology, the sciences, and learning.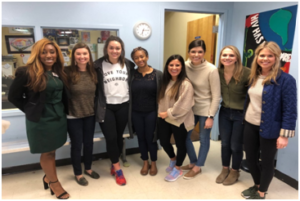 The event was a huge success for the kids and a special thank you is credited to Ashley Davis, Yasmin Morton, and Ryan Pack from JLR for serving as the event leads. Pack said, "We are overwhelmed with gratitude by the outpouring of support from our fellow Junior League team members and external community partners. Through the support and collaboration of our 15 career presenters and the Boys and Girls Club, we're able to make a meaningful difference. It is exciting to know, in some small way, we're able to expand the minds of youth by exposing them to careers in STEM, the arts, active military, health, fitness, and fun."