JLR statement on Jan. 6 events at U.S. Capital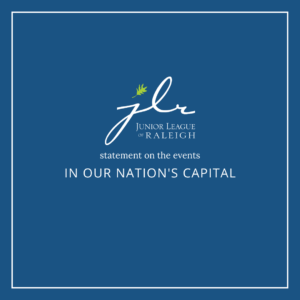 Many of us witnessed the violent attacks on our democracy and country's values in our nation's capital this week. We share in the outrage, grief, anxiety and hurt.
The Junior League of Raleigh condemns violence and racism of any kind. We condemn this week's actions by domestic extremists. We are an organization that supports our nation's democracy which has upheld our country for centuries, and we expect all leaders to instill faith, not sow doubt and division, in our democratic processes and institutions. As an organization, we hold many values dear to our hearts, including respect, diversity and community. 
The JLR remains strongly committed to building a safer, more equitable and inclusive community through our work. To our volunteer members, our community partners, and the friends of our League, we are here to support you in whatever way you need, and remind you to continue to prioritize your safety, mental and physical well-being and that of your families. We appreciate your continued dedication to strengthening and improving our shared community and the world around us. –JLR Board of Directors