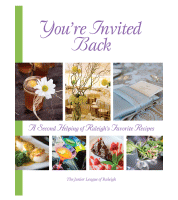 The Junior League of Raleigh is proud to present "You're Invited Back," the culinary sequel to our first cookbook, "You're Invited." In "You're Invited Back" you will find an award-winning second helping of Raleigh's favorite recipes, all tested and approved by members of the Junior League of Raleigh.
"You're Invited Back" includes only the best recipes from members' kitchens. Complementing the recipes are beautiful photographs taken by sustaining member Tammy Wingo, menu suggestions for popular occasions and helpful culinary tips.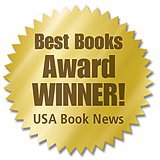 Award-winner in the "General Cookbooks" category of the "Best Books 2010" Awards, sponsored by USA Book News.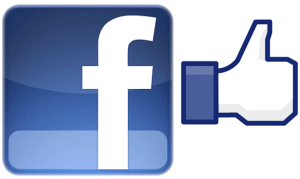 Follow "You're Invited Back" on Facebook

Take a look at the Cookbook episode from our SPREE! coverage
 
You're Invited Back is currently available for purchase at these fine retailers:
3 Monkeys (Aiken, SC)

A Southern Season (Chapel Hill, NC)

Affordable Chic (Raleigh, NC)

Angus Barn (Raleigh, NC)

Bailey's Fine Jewelry (Raleigh, NC)

Bargain Box (Raleigh, NC)

Beach Book Mart (Atlantic Beach, NC)

Bedford Blooms (Raleigh, NC)

Bull's Head Bookstore – UNC Bookstores (Chapel Hill, NC)

Calypso Cottage (Beaufort, NC)

Carolina Silver Company (Cary, NC)

Charlotte's (Raleigh, NC)

The Christmas Shop (Manteo, NC)

Country Book Shop (Southern Pines, NC)

David Anthony's (Fuquay-Varina, NC)

Debbie Webb Gifts (Fuquay-Varina, NC)

Dee Gee's Gifts (Morehead City, NC)

Dragonflies, Inc. (Wilmington, NC)

Fallon's North Raleigh, formerly Bedford Blooms (Raleigh, NC)

Frances T. King Stationary (Raleigh, NC)

The Globe (Virginia Beach, VA)

Ivy Cottage Creations (Morrisville, NC)

Kannon's Clothing (Wendell, NC)

Korner Gift Shop at Rex Hospital (Raleigh, NC)

Lavender & Lace (Raleigh, NC)

Lily Mae's Jewelry & Gifts (Raleigh/Wake Forest, NC)

Lisa's Hallmark (Hickory, NC)

Lydia's (Raleigh, NC)

Lynn's Hallmark (Cary, NC)

McIntyre's at Fearrington Village (Pittsboro, NC)

MG Tates (Indianapolis, IN)

Midtowne Olive Press (Raleigh, NC)

Monkee's of Raleigh (Raleigh, NC)

NC Museum of History Shop (Raleigh, NC)

NOFO at the Pig (Raleigh, NC)

NOFO Market & Café (Wilmington, NC)

The Nook (Wilson, NC)

Oxford Floral (Oxford, MS)

The Paper Company (Holly Springs, NC)

Polka Dot Palm (Wilmington, NC)

Printer's Alley (Raleigh, NC)

Purple Puddle (Chapel Hill, NC)

Quail Ridge Books (Raleigh, NC)

Quintessentials (Raleigh, NC)

Raleigh City Museum (Raleigh, NC)

RSVP (Pinehurst, NC)

Russell's Old Tyme Shoppe (Swansboro, NC)

Rusty's Gifts (Tarboro, NC)

St. Mary's School (Raleigh, NC)

The Sassy Blossom (Cary, NC)

Sweet Dreams Gifts & Interiors (Cedar Point, NC)

Tammy Wingo Photography (Raleigh, NC)

Taylor's of Raleigh (Raleigh, NC)

Tyler House (Raleigh, NC)

Village Market at Shelton Vineyards (Dobson, NC)

The Whalen Companies (Raleigh, NC)

The Wine Merchant, Inc. (Cary/Raleigh, NC)

Zest Café (Raleigh, NC)