Chancy Kapp, a SAFEchild founder, to speak at annual luncheon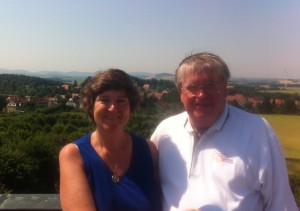 Raleigh | November 13, 2015: On Wednesday, November 18, 2015, Chancy Kapp, along with her husband Keith, will kick off SAFEchild's annual luncheon. The Kapps serve as this year's SAFEchild Campaign Honorary Chairs and are long-time supporters of the organization.
The complementary luncheon will take place from 11:30 a.m. to 1:00 p.m. at the Hilton N. Raleigh/ Midtown and will include nearly 600 business, community and Junior League of Raleigh leaders. The event will also feature a performance by the Junior League chorus, inspirational testimonials from SAFEchild program participants and opportunities for participants to support the SAFEchild organization.
SAFEchild, which stands for Stop Abuse for Every Child, was created by the Junior League of Raleigh in 1993 and is the only agency in Wake County providing child abuse prevention and intervention services directly to families. The group helps more than 900 families and nearly 7,000 children each year. As a member of the Junior League of Raleigh team that established SAFEchild, Chancy's remarks will provide her unique perspective on how the organization has grown and the continuing impact SAFEchild programs and the Junior League of Raleigh have on children and families in Wake County.  "Creating the organization and Child Advocacy Center was a huge leap, and SAFEchild could never have taken it without a legacy of support from the League," said Chancy. "As a community, we don't like to deal with negative things like child abuse and neglect, but I think SAFEchild owns the answer."
The Junior League of Raleigh has supported SAFEchild since its inception with more than $1 million in funding and a lead gift of $260,000 to kick off the SAFEchild Comes Home campaign. League volunteers also continue to be actively involved in SAFEchild programs and have spent more than 15,000 hours mentoring new mothers, providing abuse prevention training to first graders and caring for children while their parents participate in SAFEchild family building programs. "SAFEchild's important work in our community is possible because of the ongoing commitment of the Junior League of Raleigh and other civic and religious groups, volunteers, and donors who provide the resources needed to help protect children and eliminate the tragedy of child abuse," said Cristin DeRonja, Executive Director of SAFEchild.  "We are extremely grateful for the commitment and vision of the members of the Junior League of Raleigh like Chancy Kapp for dedicating their time, talent, and financial investment to help the children and families of Wake County."
About Chancy Kapp
Chancy was among the Junior League Members who established the organization in 1993. In addition to her work with SAFEchild, Chancy served as Director of External Affairs and Marketing for the NC Community College System until her retirement in 2008. Prior to joining the NC Community College System, she worked with the UNC Center for Public Television, the NC Department of Cultural Resources , and with WFMY-TV, the CBS affiliate in Greensboro.  A sustaining member of the Junior League of Raleigh, Chancy currently directs the Junior League Chorus and has served on boards of many community and statewide organizations. She chairs the writing contest of the Phi Beta Kappa Association of Wake County and is on the boards of the State Capitol Foundation, the NC Museum of History Associates and the United Arts Council of Raleigh and Wake County.
About SAFEchild
SAFEchild was created in 1993 as Wake County's only child abuse prevention agency. SAFEchild's programs reach into the heart of fragile families and through a blend of parent education and social support helps them develop the skills and attitudes needed to nurture their children. In 2009, SAFEchild deepened its mission by establishing the SAFEchild Advocacy Center to promote a coordinated response to allegations of child abuse. For more information, visit SAFEchild at www.safechildnc.org.
About the Junior League of Raleigh
The Junior League of Raleigh is the local chapter of the Association of Junior Leagues International, an organization of women committed to promoting volunteerism, developing the potential of women and improving the community through the effective action and leadership of trained volunteers. Its purpose is exclusively educational and charitable. The Junior League reaches out to women of all races, religions and national origins who demonstrate an interest in, and commitment to, volunteerism. Now in its 86th year, the Junior League of Raleigh boasts nearly 1,600 women supporting community organizations around Wake County. For more information, visit www.jlraleigh.org.