SAVE THE DATE for the 2016 A SHOPPING SPREE!!
Visit our home page for additional information.
November 3, 2016 – NOVEMBER 6, 2016
Tickets are now available for the 2016 A Shopping SPREE!!  Click below to purchase yours today!

A Shopping SPREE! – a Raleigh tradition for over 30 years – is considered the area's premier and most original shopping event.  This annual four-day shopping fundraiser showcases regional and national exhibitors for shoppers seeking the latest in fashion and home decor trends, unique gifts and holiday merchandise. This is a juried event ensuring a well-balanced selection of products and quality merchandise.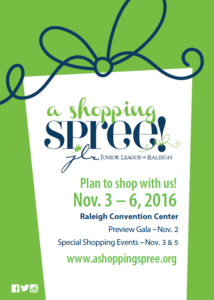 Thursday

November 3

Friday

November 4

Saturday

November 5

Sunday

November 6

11 am to 7 pm

9 am to 7 pm

9 am to 5 pm

10 am to 5 pm
Proceeds from A Shopping SPREE! help support the Junior League of Raleigh's Center for Community Leadership and community projects, particularly in the League's focus area of promising youth.  The League has donated more than $1.6 million and more than 237,000 volunteer hours to programs and projects that impact youth in our community such as BackPack Buddies, SAFEchild, Brentwood Boys & Girls Club, StepUp Ministry, Helping Horse, Heritage Park Community Learning Center, Kids on the Block and AventWest Children's Mentoring.
A SPREE! Fund has been established to help offset the costs of the show and allow more funding for our community programs and projects.  Donate now to support the SPREE! Fund.
Like our Facebook page for updates about the 2016 show.
Vendors interested in exhibiting at A Shopping SPREE! should visit our Exhibitor Information page and like our Facebook page for information on the show and application process.