12th 'Cuegrass Festival & BackPack Buddies

Come out and enjoy bluegrass and barbecue while supporting Junior League's BackPack Buddies program. This year's event will be held on Fayetteville Street which means more space for fun! Junior League will have a tent to feature the Backpack Buddies program and how women in the area can become a member of JLR! So mark your calendar for this event to enjoy live music and BBQ, while helping support BackPack Buddies!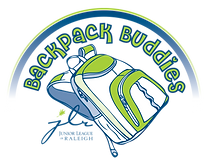 Click the Backpack Buddies logo for more information about the program.